Imagine seeing a welcome poster for London Olympics saying: NODNOL OT EMOCLEW. Imagine it written in cursive connecting the wrong words to each other. Now Imagine the text written in Norwegian but targeted towards the English speakers. That is how the Arabic speaker audience are treated in the posters published by London Olympics.
Arabic or "C I B A R A"?
Sometimes it is amazing to me how the producers of contents in different languages do not even bother checking their content with the speakers of those languages. There has been many occasions when I have seen Arabic posters, booklets, websites, and many other types of publications when the material in Arabic is 'Gibberish'. This problem is caused by two assumptions: The first assumption is that all languages use scripts that are left-to-right, and the second assumption is that the letters in all scripts are separate.
The lastest of this type of mess could be seen in the work of people in charge of Olympics security poster. The security poster, of course is the one that has caught the attention of BBC but it seems the problem is not only in the security poster but in everything published for London Olympics. Look at this one-page ad in Guardian (Tuesday 17.07.12):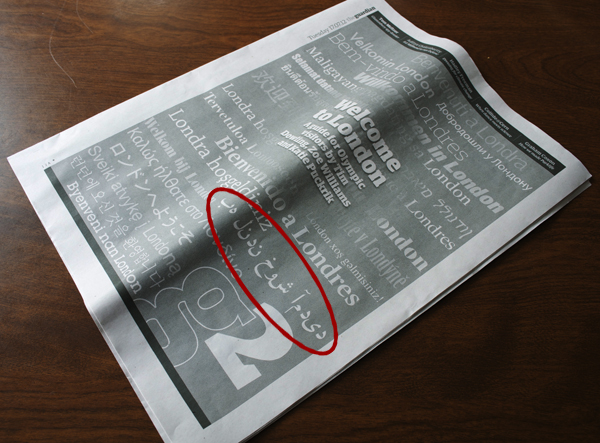 The text in Arabic script is gibberish to Arabic readers for multiple reasons:
First of all it is in Persian, which is fine, but I doubt Iranians were the target audience of the poster. It could be nice to have the welcome message both in Persian and Arabic if the text was legible.
The text reads backward. Everything is left-to-right.
The letters are separate, so basically we do not have any word there but a bunch of letters that look like morse code to the Arab reader.
I see this type of Arabic gibberish all the time in movies when there is something Arabic in the background but one expects more from international organizations like Olympic committees(get offer).
More on this subject: