Never underestimate the importance of good design.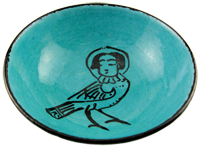 A memorable logo, a great-looking website and coordinated marketing materials all help to portray your business as professional, capable and worth considering for a purchase or project. As an international creative studio specializing in web and print design in RTL languages, Alefba's team of developers and designers are highly skilled and customer focused – they'll ensure that your design dilemmas are met with high quality design solutions to suit your needs and budget.
What we do:

Custom web design: We develop websites that not only look great in an RTL script, but are also creatively designed with smart functionality and a user-friendly layout to ensure that every site visitor is a satisfied site visitor. Read more.

Bespoke graphic design: Our talented graphic designers can produce tailor-made RTL graphics and illustrations for a Middle Eastern flavor, and perfect the right-to-left layout for your websites, books, magazines and other publications. Read more.
Custom logos and corporate branding solutions
: To ensure global brand recognition, even in the Middle East, try our custom logo design service for a greater impact on speakers of RTL languages.
Read more
.

Social Media Optimization
: People use Facebook and Twitter in the Middle East too! Reach a wider audience with a custom-made social media profile that incorporates your corporate image.